LTT meeting Erasmus+
"Different but together"
2019-1-RO01-KA229-063163
Liceul Tehnologic "Gheorghe Sincai"Romania February 28 – March 4, 2022
Czech participation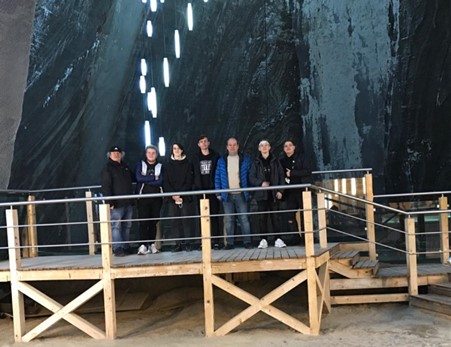 Czech Republic was represented by a delegation of 2 teachers and 5 students.
We started the first day of the activity at Liceul Tehnologic "Gheorghe Șincai" which is the name of Romanian technical school which hosted this activity. First, we were taken into a room where each nation had a table with their name and after delegations´ introduction we started presenting each country traditions.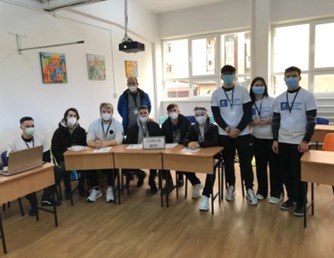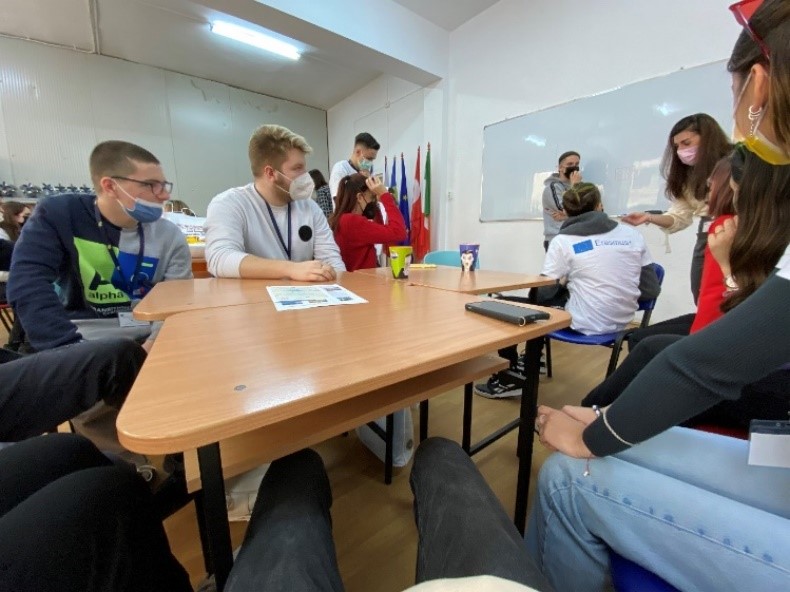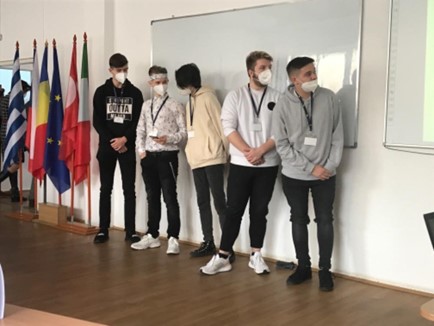 After presenting our traditions we started playing a game called "Activities". This game is about guessing a word using hands, voice, or pencil.
During this time the teachers were planted trees – apples in a school yard.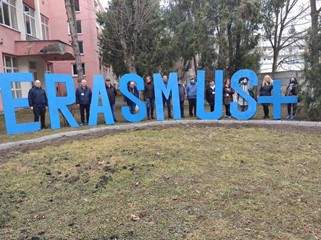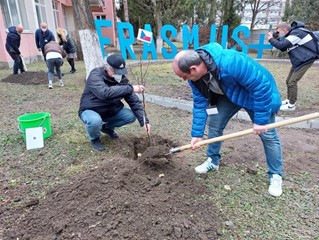 After this game we had a coffee break where we could talk to each other and ask about all sorts of matters. Then we were divided into teams of 4 where each team had 1 participant from every country – the Czech Republic, Romania, Turkey and Greece. The task was to paint a team flag and give names to the teams.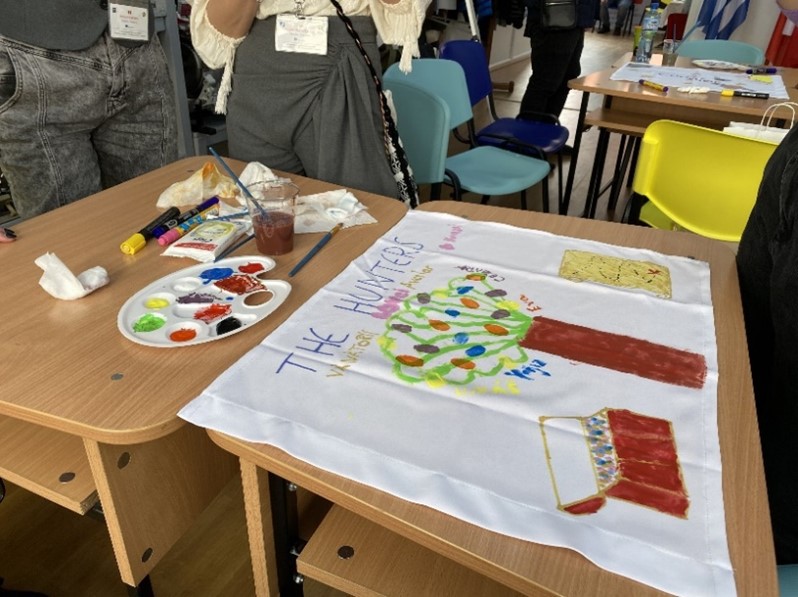 When we finished the flag, we went to do a last activity of the day and that was a treasure hunt. We went around a city Târgu Mureș and did some challenges like solving a riddle or posing as a statue or singing a song. After that we went to an old fortress where the treasure hunt took place. The treasure was the letters that made up the name of this Erasmus + project "Different but together".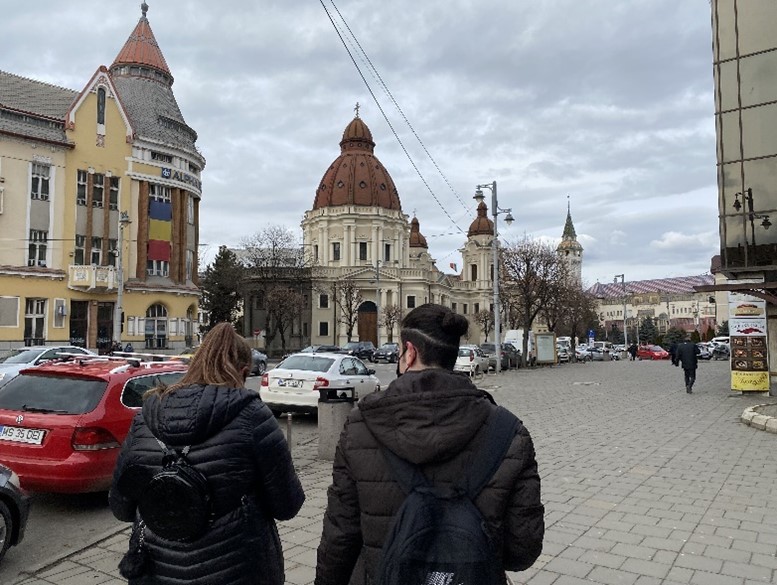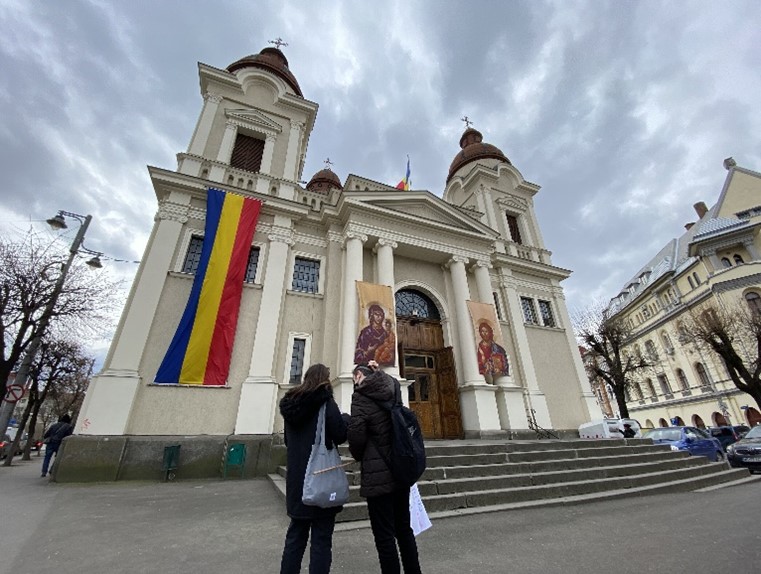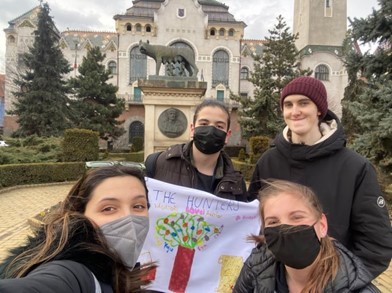 The second day we were in the Salt mine Turda. It used to be a huge mine.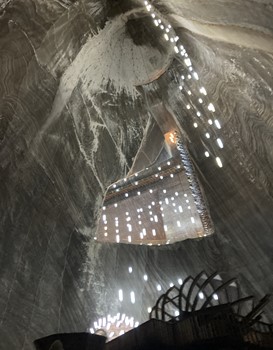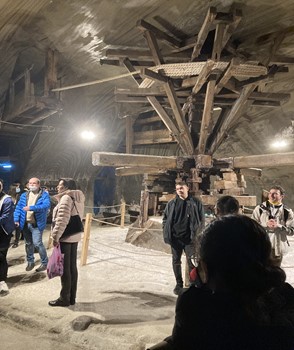 We were split into teams, and we were supposed make a vlog from the Salt mine. There was a billiard, ping pong, Russian wheel and boats on a small lake.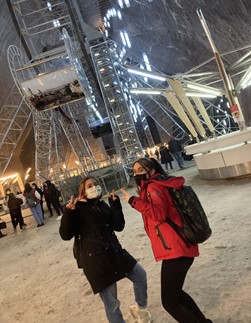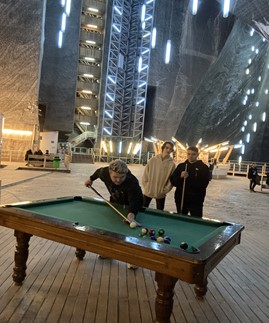 It was amazing and little challenging. Then we went around the whole mine and watched its beauty.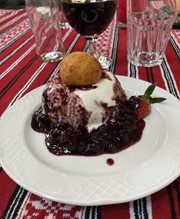 After the vlog, we took a picture together and went out for a very good lunch. We got goulash in bread and a Romanian traditional dessert Papanasi.
Papanasi was delicious.
The third day began with traditional dances in the school. First, we introduced ourselves to each other with the dancing group. After that they played some traditional Romanian folk songs. They started to dance, and we all joined too. It was so fun, amusing, and enjoyable because we also danced Turkish and Greek folk dances, contemporary dances as well.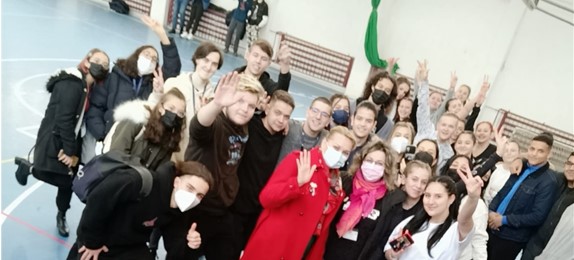 After the dances we went to paint a wall which had already drawn objects on it.
On the left side there is our planet, in the middle wings and flags of the participating countries with European flag as well. On the right there is the motto of our project "Different but together".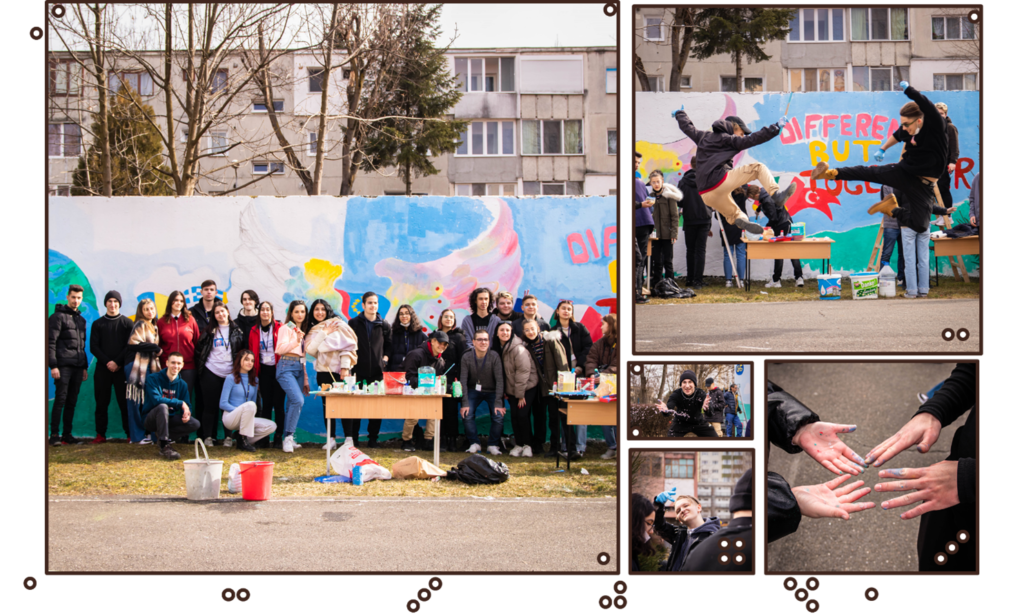 The last activity that was most relaxing and exciting for the whole day were traditional Romanian, gypsy and contemporary dances in the theatre.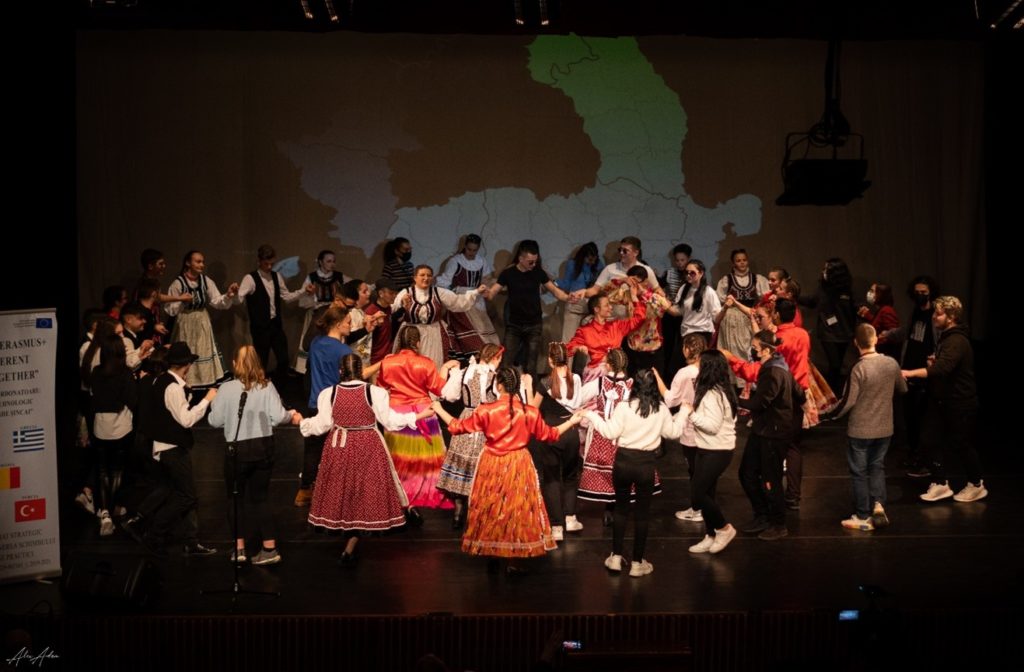 The fourth day started with a short walk to the Palace of Culture which was very impressive, and the arts were breath-taking.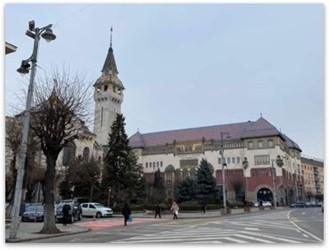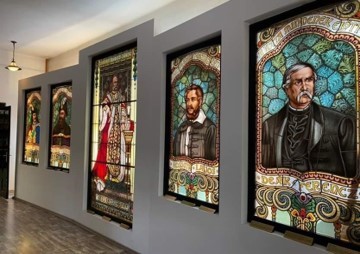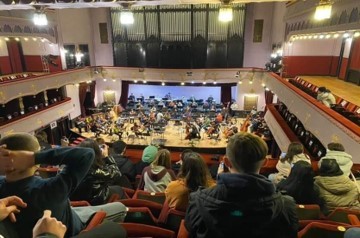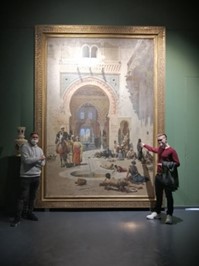 Then all participants went for two-day trip around Romania towards Brašov. One of the places which we visited was a town Sighișoara. It was very beautiful and the guide we got was very sociable. In this city we visited a citadel, a citadel square, and a clock tower.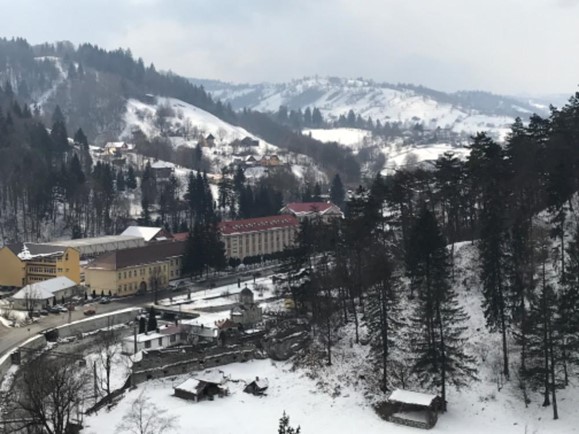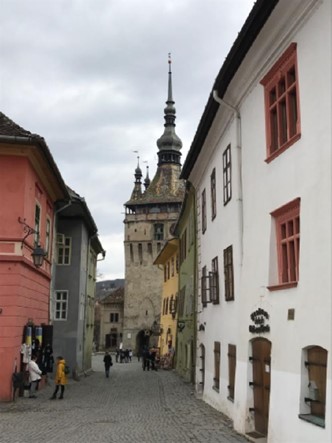 We started the fifth and last day with the trip to legendary Dracula castle early in the morning.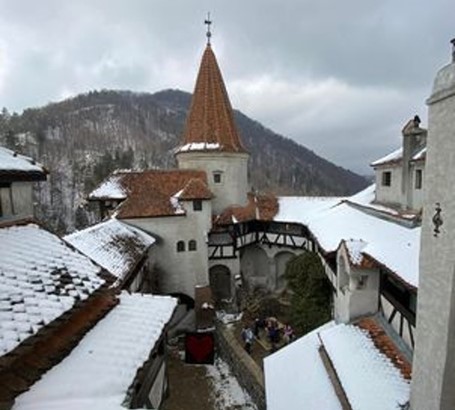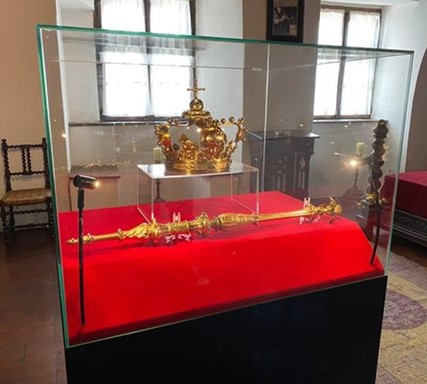 When we arrived, we went to the entrance of the castle. There were some shops with souvenirs, so we went shopping. Then we went up to the hill towards the famous castle. There we saw a lot of interesting things for hunting vampires and belonging of feudal lords.
We took some final pictures with all participants, and we said goodbye to them because it was the end of this project activity.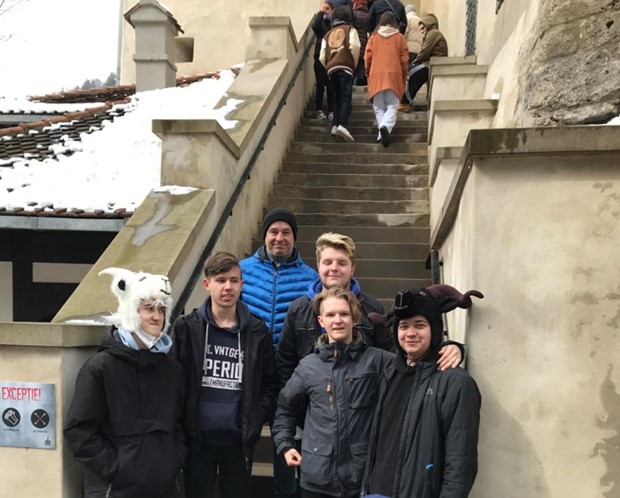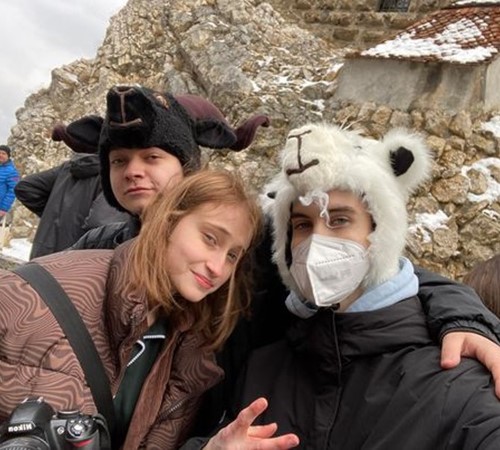 Feelings and opinions of Czech students participating in this activity:
Lukáš
I had a lot of fun and enjoyed meeting some new friendly people.
The most I liked were the people who were there with me because they were very likeable and funny.
Only problem I had was that sometimes I couldn't find words in English which I wanted to use so I used translator on my phone. This was very good experience for practising English. Accommodation and food were wonderful. I think Erasmus is one of the best projects in education that students can try, because it helps you make new friends, practice English, and learn about other cultures and I would like to try to go another Erasmus in future.

Martin
This activity was one of the best of my experiences. I liked everything. I was abroad for the first time, and I enjoyed it. I think Erasmus+ is good for everyone, and I´m sure I would like to go again!!
Tundzhay
Thanks to this project I've really practiced my English. I found out new friends. I also discovered new locations, different cultures, tasted different kinds of good food.
Shortly I can say that this project gives a lot of knowledge and experience to young people who need that kind of socialization. I think everyone should experience what we did and hopefully I will be able to take part in another Erasmus activity.
Adam
I would rate this whole project 10 points out of 10. I'm glad I was able to participate. I made a lot of new friends, gained knowledge of new cultures and a lot of experiences.