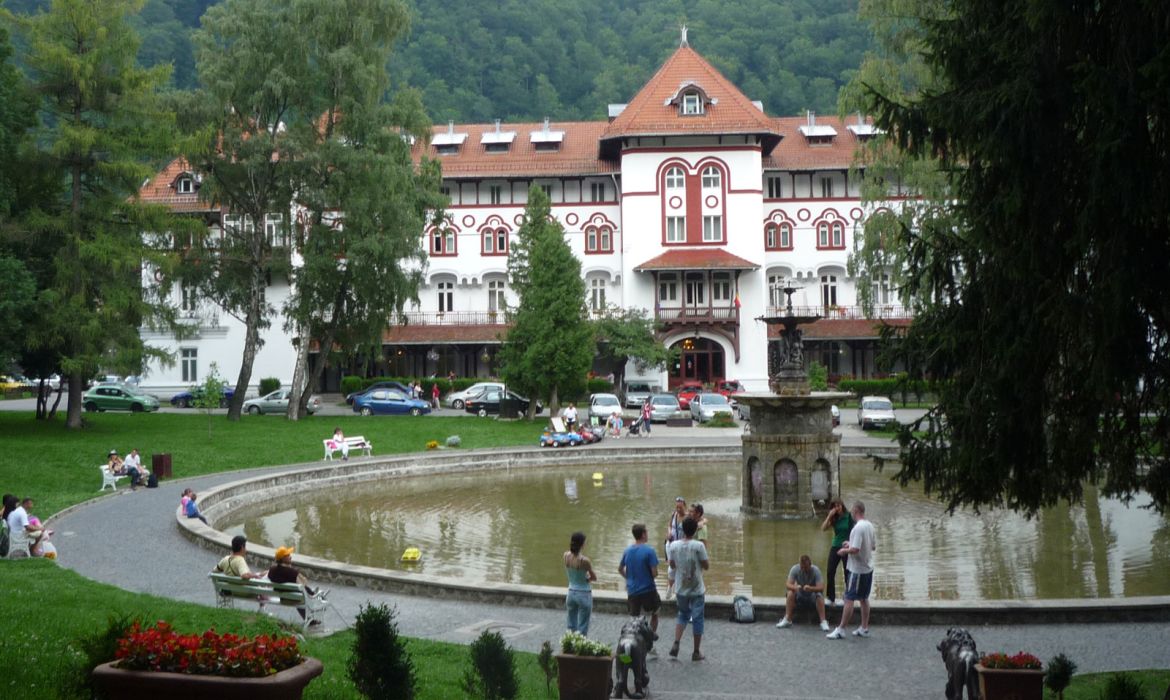 Sinaia
Sinaia (Romanian pronunciation: [si'naja]; population: 14,636) is a town and a mountain resort in Prahova County, Romania. The town was named after Sinaia Monastery, around which it was built; the monastery in turn is named after the Biblical Mount Sinai. King Carol I of Romania built his summer home, Peles Castle, near the town.
Sinaia is about 60 km northwest of Ploiesti and 50 km south of Brasov, in a mountainous area on the Prahova River valley, just east of the Bucegi Mountains. The altitude varies between 767 m and 860 m.
The city is a popular destination for hiking and winter sports, especially downhill skiing. Among the tourist landmarks, the most important are Peles Castle, Pelisor Castle, Sinaia Monastery, Sinaia Casino, Sinaia train station, and the Franz Joseph and Saint Anne Cliffs. Sinaia was also the summer residence of the Romanian composer George Enescu, who stayed at the Luminis villa.
Peles Castle
Peles Castle (Romanian: Castelul Peles [kas'telul 'peles]) is a Neo-Renaissance castle in the Carpathian Mountains, near Sinaia, in Prahova County, Romania, on an existing medieval route linking Transylvania and Wallachia, built between 1873 and 1914. Its inauguration was held in 1883.
By form and function, Peleº is a palace, but it is consistently called a castle. Its architectural style is a romantically inspired blend Neo-Renaissance and Gothic Revival similar to Schloss Neuschwanstein in Bavaria. A Saxon influence can be observed in the interior courtyard facades, which have allegorical hand-painted murals and ornate fachwerk similar to that seen in northern European alpine architecture. Interior decoration is mostly Baroque influenced, with heavy carved woods and exquisite fabrics. Peleº Castle has a 3,200-square-metre (34,000 sq ft) floor plan with over 170 rooms, many with dedicated themes from world cultures (in a similar fashion as other Romanian palaces, like Cotroceni Palace). Themes vary by function (offices, libraries, armories, art galleries) or by style (Florentine, Turkish, Moorish, French, Imperial); all the rooms are extremely lavishly furnished and decorated to the slightest detail. There are 30 bathrooms. The establishment hosts one of the finest collections of art in Eastern and Central Europe, consisting of statues, paintings, furniture, arms and armor, gold, silver, stained glass, ivory, fine china, tapestries, and rugs. The collection of arms and armor has over 4,000 pieces, divided between Eastern and Western war pieces and ceremonial or hunting pieces, spreading over four centuries of history. Oriental rugs come from many sources: Bukhara, Mosul, Isparta, Saruk, and Smirna. The porcelain is from Sevres and Meissen; the leather is from Córdoba. Perhaps the most acclaimed items are the hand-painted stained glass vitralios, which are mostly Swiss.